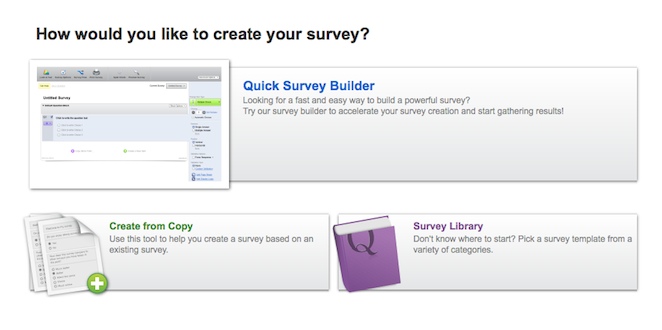 Students, faculty and staff now have access to Qualtrics, a market leader among data collection and survey research survey platforms. Many in the research community will already be familiar with the name, but users all over campus will find value in this tool.
A recent article Information Week went so far as to say that Qualtrics dominates academic survey research because its easy to use but does not fall short on features or sophistication.
Qualtrics is most typically used within academic institutions for consumer research surveys, institutional research surveys, event registrations, assessments, experimental design projects, test and quizzes.
The product has more than 100 question types and branching even for open-ended question types. Video can easily be inserted into survey and an array of features to customize the survey experience.  Best of all Qualtrics is centrally funded, so there's no cost to you.
"This tool can be used for simple qualitative information gathering as well as for quantitative purposes. Additionally, the use of the collaboration feature allows for students that work in groups to collaborate and access the information gathered without having to share passwords or usernames," says Alicia Burris, director of the Center for Educational Development and Research in the Jeannine Rainboldt College of Education.
"Faculty researchers interested in using this tool may also like the selective collaboration features as they can add graduate students to assist with limited permissions while adding co-PI's with varied levels of access," she says.
Qualtrics is currently licensed within over 1,400 universities and used on a site-wide level (like OU) in over 425 instances.
You can get started using Qualtrics by logging into survey.ou.edu with your 4×4.
Have additional questions? Try the following websites or call 325-HELP.