NORMAN – In observance of the 150th anniversary of the U.S. Civil War, the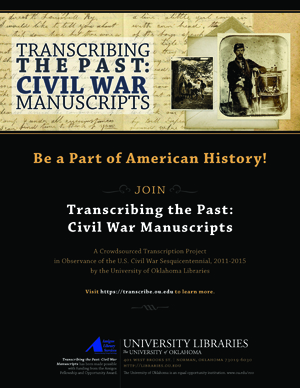 University of Oklahoma Libraries invites the public to transcribe a group of Civil War-era manuscripts, available at transcribe.ou.edu.
Transcribing the Past: Civil War Manuscripts features handwritten letters (1862 to 1863) exchanged between Lt. Lyle Garrett of the 23rd Iowa Infantry and his wife, Mary; and a diary (1861 to 1865) kept by Charles Kroff, who was a soldier in the 11th Indiana Volunteer Infantry. The original diary and letters are held by the OU Libraries' Western History Collections. They describe camp life, troop movements and the battles of Shiloh, Fort Donelson and Corinth, among others.
The purpose of the project is to make the documents more accessible to citizens across the nation during the war's sesquicentennial. It is also a research study to help OU librarians learn how to use the popular method of "crowdsourcing" effectively for content and metadata creation.
The study was partly funded by a grant from the Amigos Fellowship and Opportunity Award. Transcribers must be 18 or older to participate, and no prior transcription experience is needed. Once the diary and letters are fully transcribed, they will be visible on the University Libraries' website for everyone to read.
For more information about Transcribing the Past: Civil War Manuscripts, please visit transcribe.ou.edu.