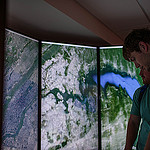 Though we've only been open a little over a year, we've seen some great interaction and innovation taking place in the One U Store. Designed to be more technology playground than store, our tools, advice and help are available to all OU faculty, regardless of discipline, no appointment needed! Need some ideas on ways to use our space? Here's a list of the top five innovative ways that OU faculty have used the space over the course of the last year.
1. Last semester, the Google Liquid Galaxy was used to teach a class on GPS tracking. If you are not familiar with Google Liquid Galaxy, it is Google Earth Pro on five 55″ TV's that allows you to explore the Earth, Moon and Mars with pin-point accuracy. Want to  visit your childhood home? Another country? Another planet? It can take you there.
2. An OU math professor recently used 3D printing to explain volume to a Calculus class. The One U Store was able to guide him through some free 3D printing tools. He then used the free 3D printing options that we offer to create cones to explain volume to his students.
3. A CoE professor used the 3D printers to allow her class to build models for an assignment (3D printing is free to OU students, faculty and staff). We were able to help her troubleshoot a 3D printing issue so she didn't have to spend time waiting for the models to print. We kept up an open line of communication as to what needed to be done so she could work on other projects in the meantime (not watch a 3D printer).
4. Another CoE professor is currently using the One U Store for innovative ideas in his human/computer interaction course. By visiting the space and seeing the cutting edge technologies on display, he is hoping to inspire his students to contemplate "what's next?"
5. Lastly, we are currently working with a professor to find ways to use technology to help him be more productive. By using cloud storage, lynda.com and other productivity tools, we are helping him find ways to save time and to be more effective in his research and classroom teaching.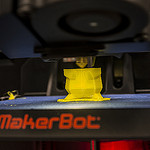 We also offer service and support on a walk-in basis for faculty. This includes not just broken or malfunctioning hardware but advice, guidance and education on the hardware and software that is used at the University everyday. We are always looking for faculty interested in getting involved in the OU Digital Initiative and even have some potential ideas from University Leadership for any interested faculty. We are always willing and excited to sit down and brainstorm ideas or to help faculty put their ideas into action.
We hope you'll come by and visit us soon!
– The One U Store Team